We build it right!
We take the time to engineer and hand build all our hulls right in our shops. We take the time to meet with each and everyone of our customers – no matter where they are formed to ensure that we handcraft and built the best boat.
We take the time and put in the effort –  to build it right.
Business Headquarters and Innovative Design Facility
Our Sales Office is situated along the deep river channel of the Beautiful Miramichi River. Marketing, Accounting, Purchasing, Design, and Quality Management are also administered here within our inviting office space.
Vessel assembly and outfitting are conducted within a 6,000 square foot workshop linked to our office space. Here, is where innovation of new product design takes place.
This prime real estate is conveniently located within walking distance to Miramichi's Rodd Hotel and only two miles from the Miramichi Airport for anyone traveling by private jet.
We would love for YOU to meet our staff, enjoy the scenery, and experience the Mystical Miramichi!
Fiberglass Manufacturing Shop
Escuminac, New Brunswick is where the "Tale" begins, both for your "boat to be" and the Guimond Family Boat Building Tradition.
All fiberglass layup of hulls, cabins, and parts is performed to high quality standards in a controlled environment. We have recently increased our moulding capacity by doubling the work area to 12,000 square feet.
Under the control of experienced guidance from our Shop Foreman, and Fiberglass Technicians, using only top-quality fiberglass materials, our product is second to none!!
Assembly Plant
In 2020, we have erected two new buildings adding another 8,000 square feet of production space. These larger facilities with higher ceilings permit us to assemble up to 6 boats at a given time and enables the construction of larger boats.
Our Boats are built TOUGH!!! The production flows from A to Z following a detailed work order and quality control checklist.
The finish is EXCEPTIONAL!
Cory Guimond
President / Sales

Although often called "Boss", The Company President is a Proven Leader.
Born into boatbuilding, Cory is proud to continue the Guimond Family Tradition as a third generation boatbuilder.  While being behind the helm since 1995, Cory has designed, built, and delivered more than 300 fiberglass boats!
Since the launch of his career, Cory has been an industry leader, innovating new hull designs that have yet been matched.  Nothing has changed, now more than ever, thanks to a growing staff of craftsmen, he continues to make waves in the boating industry.
Despite the long hours devoted to managing this fast-growing business, our president still finds time to get his hands dirty!  "It's my happy place!".
Steven McGraw
Miramichi Shop Foreman
Steve has returned to boatbuilding when joining our team in 2019 as an experienced bodyman.  He has since expanded knowledge in other areas of trade and has become a well-respected mentor controlling both production and quality.
As Production Foreman, Steve delivers QUALITY!
Denis Savoie
Shop & Systems Manager
Only 26 years old, but Bernadette has proven her abilities tenfold!  After completing a Business Accounting course at NBCC in Miramichi as a foreign student, she has accepted our job offer and soon held position as Office Manager.  Accounting is her specialty, but she has also undertaken responsibility of Immigration Recruitment, and much more!
5 p.m. is never quitting time for her.  Most nights, still in the office until 7 or 8 p.m.  Whenever needed… She is there!!!
With four years of prior experience working with the company, Rob returned to work in 2018.
Today, Rob holds a key position controlling all yard operations such as assembling product, operating equipment, and keeping the yard in tip top shape!
Rob will often work on weekends with our President "Getting the Job Done!".  Always a few laughs to be had!
He LOVES the new tractor!
Emery Duke
Fiberglass Shop Production Manager
"Duke" has now been with our company for 3 years and has built over 50 wheelhouses and lord only knows how many parts!
He can dismantle and reassemble a chopper gun with his eyes closed!
No cutting corners with this guy when it comes to strength and quality!
In addition to pumping out product, Duke oversees all operations as Fiberglass Shop Production Manager.
Rolando Ungab
Business Relations
"Rolan" was amongst the first group of 10 Filipino workers to join us back in 2018.
In addition to shop and safety compliance, more importantly, Rolan handles Client and Employee Relation.  His calm nature and respectful demeanor are welcoming to all visitors.
He is another that will never say no.
Edna Caringal
Purchasing / Safety
Edna is the wife one of many of the many Filipino workers on staff. In addition to her responsibilities of Purchasing and Receiving, she is also Head of Safety. Always prompt to run errands and taking care of "Sir Cory" setting reminders or tidying his office.
Being the hard worker she is, Edna holds a second job working each Saturday at Burger King.
It is sure nice to have connections with today's wrap around drive-thru lineups!!
Hector Ramirez
Assembly Shop Foreman
The little guy with a big punch!  When it comes to getting the job done… Hector is the guy!  He has recently been promoted as Shop Foreman.
Hector oversees all projects within our Escuminac Assembly Plant.
Can always count on work orders being precisely executed!
Arnel Abuzzo|
Project Manager
Brandon Abad
Body shop Manager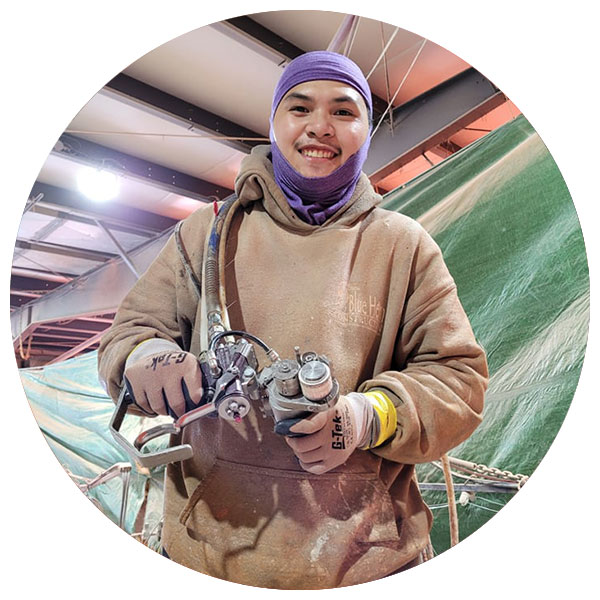 Kenneth Ungab
Hull Production Manager
Lino Macalinao
Project Manager
Robert Tintero
Production Foreman